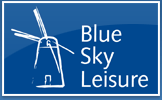 More News


300,000 pound Investment Will Improve Facilities For Customers
1/23/2004

A North Norfolk leisure business is investing a further £300,000 to improve facilities for customers.
Blue Sky Leisure is putting the money into its award winning Kelling Heath Holiday Park, which brings nearly 50,000 visitors to the county each year.
A further two holiday lodges, finished externally in Scandinavian redwood with exposed pine interiors, have been installed plus an additional 12 new traditional caravan holiday homes will also be ready for the new season.
"We introduced the lodges for the first time last year and they were a tremendous success, with as close to 100 per cent occupancy as you can get" said Blue Sky Leisure director, Michael Timewell.
"So we have introduced another two this year and they come with everything people require to ensure rest and relaxation, microwave, dishwasher, washing machine, TV, DVD/video, hi-fi and they are also double glazed and centrally heated.
"We believe the lodges blend well into the unique natural environment at Kelling, particularly with their timber exteriors.
"We will also be upgrading our traditional hire fleet by replacing 12 existing caravan holiday homes with new models that reflect the latest innovation and design.
"At Kelling we are also carrying out a complete refurbishment of the 'Village Store' which will see the existing interior removed and replaced with new beech and chrome fittings, low level shelving and refrigeration units to make the whole store more user friendly."
Kelling Heath was named the UK Holiday Caravan Park of the Year in the Excellence in England Awards for Tourism 2002, organised by the English Tourism Council. It has also received the David Bellamy Gold Conservation Award and was a Tourism for Tomorrow winner.