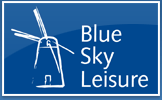 More News


Investment provides boost for Norfolk tourism
2/17/2013

Blue Sky Leisure is investing nearly half a million pounds to improve facilities at its two north Norfolk holiday parks, Kelling Heath Holiday Park near Holt, and Woodhill Park in East Runton.
The investment – a boost for regional tourism and the local economy - includes the purchase of 19 new luxury caravan holiday homes for the parks, totalling £400,000. Woodhill Park will also benefit from a £85,000 refurbishment of the park shop and reception area. It heralds a positive start to the new season for the company, which last year won the Youth Development category at the EDP Tourism Awards, as well as receiving Gold status from Investors in People in recognition of its outstanding commitment to staff development, training and employment practices
Blue Sky Leisure Director, Michael Timewell, says the investment builds on year on year growth in bookings at both parks.
"We are proud of our history of continual investment in our parks, and as a result supporting Norfolk's tourism industry, and we want to continue our support into the future.
"Our ongoing investment in quality accommodation is just one of the factors in helping extend the season at the parks, particularly at Kelling Heath, which is now open from mid-February to the New Year. This has enabled us to retain many of our staff on a full-time basis, moving away from seasonal to more permanent employees.
"As a company we invest heavily in staff training so it is pleasing that we can benefit from this investment in our people by their retention. We currently have 66 full-time equivalent roles at the two parks."
Holiday homes are replaced every three or four years to maintain quality and provide the latest in innovation and design for guests. Blue Sky Leisure has purchased 12 holiday homes for Kelling Heath, and seven, all with unobstructed sea views, for Woodhill Park. They are the most spacious caravan holiday homes ever to be placed on the parks and completely replace and refresh its current top of the range holiday homes.
Work is currently under way on the £85,000 refurbishment at Woodhill Park to create a new combined reception area and shop for visitors. The extra space will allow better customer flow, as well as improved tourist information, guest services, and range of products in the shop. The exterior of the building will have a beachside feel with colour-washed cladding and an external decking area for guests to use. Designs were drawn up by Great Yarmouth based 99 Design and the main contractor is Grace Contracts of Norwich.
The popularity of the business is such that many of the seasonal staff that are required return year on year, but the business will still be running a recruitment drive in March to find more people to join its teams.
"Tourism is one of the most important economic drivers in this county and we are delighted that this investment will not only be good news for our business but the wider north Norfolk economy" added Mr Timewell.