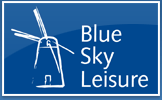 More News


Kelling Heath 25th Anniversary Tree Trail Launches British Tourism Week
3/15/2010

The 25th tree, a Ginkgo biloba, in a new woodland trail at Kelling Heath, celebrating 25 years of the Timewell family owning the North Norfolk Holiday Park, was planted today to launch British Tourism Week (15 to 21 March) in the county.
The tree was planted by Paul Timewell, Chairman of Blue Sky Leisure, owners of Kelling Heath and long-term employees Iain Stratton, Maintenance Supervisor and Stephen Hubbard, Groundsman.
Paul Timewell said: "During our time at Kelling we have invested a significant amount of time and resources to not only ensure our visitors enjoy their holiday in Norfolk, but also to ensure that we preserve and protect this unique natural environment for future generations. Our new trail, which launches in April, features 25 individual tree species, one for each year of our ownership of the park, selected on structural, aesthetic and wildlife grounds to create a walking arboretum. The trail will be both visually exciting and informative, as visitors learn about the trees ranging from native Beech and Scots Pine to the more exotic Cedar of Lebanon and Persian Ironwood."
Michael Timewell, Chairman Norfolk Tourism and a Director of Blue Sky Leisure said: "Tourism is Norfolk's biggest industry worth £2.5 billion to the county's economy and providing 37,500 full-time jobs. During British Tourism Week we should celebrate the sheer hard work of those involved in the industry. They add real value to the local economy and showcase our wonderful county to the millions of people who choose it as a holiday destination. At Kelling Heath we have steadily invested in the facilities for the last 25 years and are particularly proud of the recognition that we have had for our work with the natural environment."
Kelling Heath Holiday Park www.kellingheath.co.uk Set in 250 acres of woodland and rare open heathland in an Area of Outstanding Natural Beauty, Kelling Heath offers woodland lodges, luxury holiday homes and touring caravan & camping pitches. There are woodland and heathland trails and cycling and a range of indoor and outdoor leisure facilities. Holder of the British Holiday and Home Parks Association David Bellamy Gold Conservation Award. Nearly all the tree species on the estate are native species and support a large range of wildlife. Some of the species in the tree trail are from outside the UK and will be managed to ensure they do not spread and impact on the native woodland.
British Tourism Week www.britishtourismweek.com
British Tourism Week 15 to 21 March, co-ordinated by VisitBritain, is a week-long promotion to raise awareness of tourism and highlight the contribution made by businesses large and small, public and commercial to Britain's £114 billion visitor economy. It also aims to galvanise the commitment of organisations and individuals to further improve and develop the industry. The key event is The Best of Britain & Ireland, a new two-day consumer travel show at London Olympia on19 and 20 March. Norfolk Tourism will be promoting the county at the show.

North Norfolk Simply Outstanding travel show at Searles Hunstanton Thursday 18 March, trade show from 10am to 2pm and open to the public from 2pm to 6pm, organised by North Norfolk Business Forum (N.N.B.F) and the Tourism Round Table, with the full support of North Norfolk District Council and the Borough Council of King's Lynn and West Norfolk, is one of the county's British Tourism Week highlights. The event features tourist attractions, accommodation providers, theatres and entertainment, places to eat, local produce outlets and museums and galleries – free entry.
Norfolk Tourism www.visitnorfolk.co.uk is the county's established public and private industry partnership. Funded by its 55 partner organisations, the partnership is designed to act as a forum for all Norfolk's tourism businesses and local authorities tel.