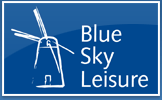 More News


New Environmental Role Created at Norfolk Company
11/8/2008
Miss Nicola Badley, 21, has been appointed to the brand new role of Environmental Officer at Blue Sky Leisure, working for its tourism and hospitality businesses, Kelling Heath Holiday Park, Woodhill Park both located in north Norfolk, ZAKS Fine American Restaurants in Norwich and Poringland and its Park Homes operation Blue Sky Homes.

Nicola, who has settled in the county from Newbury, is a recent graduate from the University of East Anglia, with a BSc (Hons) in Environmental Geography and International Development and will primarily be based at Kelling Heath Holiday Park.

She says: "I am very excited to be working for Blue Sky Leisure, particularly as they have a proven ethos on sustainability and the environment. This is my first post since graduating and I think I am very lucky to have gained this position as they are unheard of in the hospitality and tourism sectors. I will be developing new systems and strategies for environmental procedures and underpinning the great work already done to date."

Ian Hacon, CEO of Blue Sky Leisure says: "We are delighted to welcome Nicola on board in this important role. She will be responsible for delivering the key strand of our vision – Passionate about Our Environment, and will work very closely with the rest of the Management team. We have a number of environmental initiatives underway at Kelling Heath and Nicola will primarily be responsible for implementing and executing environmental systems in this newly created role at Kelling then across the remaining Blue Sky Leisure locations."

Kelling Heath has recently invested in a £180,000 refurbishment of one of its main amenity blocks to include solar and ground source heating and a water harvesting system, the park is continuing the ongoing programme of becoming carbon neutral, as well as, providing recycling schemes. Also there is an established red squirrel breeding programme and a wild flower meadow attracting rare Silver Studded butterflies.


The north Norfolk holiday park already holds a David Bellamy Gold Conservation Award for a red squirrel breeding programme and management of its 250 acres of woodland and heathland.

Blue Sky Leisure recently appointed Adnams Ales across the group of companies as this producer is one of few which can comply with Kelling's green and sustainable policies.