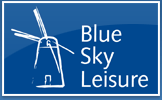 More News


Probably The Biggest Work Of Art In Norfolk Ever!
1/23/2004

Kelling Heath Holiday Park has unveiled what is believed to be Norfolk's largest work of art, at over 78m from the centre of the spiral to furthest point, making it almost twice the size of the Norwich City football pitch.
The enormous work of art, made out of red tree guards, was commissioned by Kelling after local artist Judith Campbell held an exhibition of natural sculptures in Salthouse Church.
"We asked Judith to design a sculpture for us because we felt it would fit in with everything we are trying to achieve at Kelling," said Rob Goodliffe, Countryside Manager at Kelling Heath. "We were expecting something modest in natural materials, but she had much bigger ideas! As the project developed, and grew, we were happy to support her, and we are really pleased with the final results."
"I wanted to reflect the links between the people who visited the park and connections to the natural environment," said Judith Campbell. "I chose the spiral form used symbolically by prehistoric people in their artwork, who would have lived on Kelling Heath 8000 years ago, which in turn is reflected in the natural world - in plants such as the formation of bracken and in the horns of the black hebridean sheep who graze the field.
"After much deliberation I decided to make a historical link by using a very modern material, like the red plastic, not only to create a greater impact against the green countryside but also to reflect the environmental care and concern associated with tree guards."
The spiral has been designed to link the parks ancient oaks to the young saplings at the centre of the sculpture, and Kelling Heath hope it will highlight the importance of the environmental work that takes place on the park.
For more information on the sculpture, or Kelling Heath, visit www.kellingheath.co.uk or call 01263 588181.