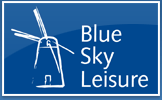 More News


Team Development at Blue Sky Leisure
3/2/2011

Blue Sky Leisure, the company that owns, Kelling Heath Holiday Park, Woodhill Park and ZAKS Fine American Restaurants have promoted two members of its team.
Nicola Badley has a new role as 'Environment & Purchasing Manager.' Nicola studied Environmental Geography and International Development at UEA before joining Blue Sky Leisure as 'Environmental Officer' in 2008. Nicola's role has recently diversified and will continue to develop by introducing new systems and strategies for environmental procedures across Blue Sky Leisure.
Sue Allen has been promoted to 'Customer & Safety Officer'. Sue has over 30 years experience working at Blue Sky Leisure; she started her career at ZAK's restaurants. Ms Allen's promotion comes following her success in completing training with the Chartered Institute of Environmental Health (CIEH) Level 4 in Health and Safety, adding to her existing qualifications in Food Safety and Training Certificates.