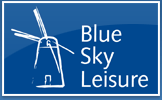 More News


Tourism Investment Follows Pat On The Back For Norfolk Holiday Firm

10/11/2010

A Norfolk leisure company is showing its commitment to its guests and tourism in Norfolk by investing £250,000 to help further evolve its offering following a string of sustainability, tourism and customer service accolades.
Blue Sky Leisure, based in Bradwell, has received a total of nine awards and nominations across its portfolio of leisure and tourism destinations including Kelling Heath Holiday Park near Weybourne and Woodhill Holiday Park near Cromer.
As part of its ongoing commitment, Blue Sky Leisure is investing £250,000 into the development and renovation of the Reception and Guest Services area at Kelling Heath Holiday Park, the work will also see external refurbishments and a new interior to the on Park Village Store. The redevelopment work comes as the latest Visit Britain Quality in Tourism ratings were published, showing record breaking scores for the two holiday parks; Kelling Heath was up by 1.04% to 95.17% and Woodhill Park was up 0.19% to 90.57%.
In addition, Blue Sky Leisure was the proud recipient of three accolades at the North Norfolk District Council Environmental Awards, including 'Highly Commended' for Kelling Heath in the Green Business Category, 'Highly Commended' for the bbq block at Woodhill Park in the Green Building Category and, most notably, the overall winner of the John Sweeney Award; a special category awarded to an organisation showing outstanding commitment to the environment and sustainability.
Kelling Heath has also made the final in three categories of the East of England Tourism's Enjoy England Awards for Excellence 2010, including Best example of Sustainable Tourism, Best Caravan Holiday Park and Best Tourism Experience with the winners announced in early November at a gala awards evening.
Other accolades have come in the form of a 5 star food hygiene award and a Gold rating from the Green Tourism Business Scheme at Kelling Heath, whilst Woodhill Park has retained its Gold David Bellamy Conservation award for the fourth consecutive year and Kelling Heath the same standard for its thirteenth year. In addition Kelling Heath has received its second David Bellamy Conservation Award of Special Distinction for its bio-diesel processor for the waste vegetable oil from our restaurants and bars that powers the parks fleet of vehicles.
Michael Timewell, Director of Blue Sky Leisure said that the company works extremely hard to enhance the services and experiences on offer to its customers, as well as continuing to improve its green credentials: "The development of the Reception and Guests Services area will enable us to provide a dedicated service to those visiting the Park and who want to know more about the range of environmental activities they can enjoy whilst visiting, or details about the surrounding area".
"Our recent accolades are testament to the vision and hard work of all involved and clearly helps to illustrate our commitment in these areas. However, for us, it doesn't stop here and we will not be resting on our laurels, this new development work is the latest in a long line of continuous improvements we have made and will continue to make across all of our businesses" said Mr Timewell
The renovation work at Kelling Heath is due for completion in January 2011 and will see a larger Guest Services and Reception area. The work will incorporate variety of sustainable features including a sedum roof, state of the art LED lighting and increased insulation.